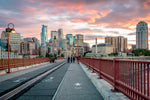 The Twin Cities are a wonderful destination for nights out, days filled with exploring, and anything in between. Caught up in suburban work life, it's easy to forget everything the Cities have to offer, especially when the weather's finally warm again! Here are a few ideas if you are looking for the perfect summer outing. 
1. Craft Breweries
Minneapolis and St. Paul have become home to urban craft breweries that offer a new take on beer tasting and that provide a local presence to visitors. Food trucks are also positioned near many of these breweries and can be a super fun way to try unique foods, along with the fact that some breweries offer their own restaurant. 
A few to visit: Bad Weather Brewing, Fulton Brewing Company (with a delicious food truck right outside), Indeed Brewing Company and Taproom, Summit Brewing Company
2. Weisman Art Museum/Dinkytown 
The University of Minnesota campus provides a great location to walk around with a view of the city, while enjoying unique places to visit that you would not be able to experience anywhere else. The Weisman offers pieces from modern art, ceramics and pottery, to traditional Korean furniture-- and as a plus has free admission. Dinkytown is the cutest little college town; it has bars and restaurants that are too good to resist. The Loring Pasta Bar, Annie's Parlour, and Al's Breakfast are just a few that the little town has to offer!
3. Como Park Zoo and Conservatory 
This St. Paul attraction is one that the whole family can enjoy-- from the furry friends in the zoo to the exotic gardens located in the Conservatory, or the pleasant parks and lake. There are even rides and games located in "Como Town," making for a little amusement park that the kids will love. 
4. Mill City Farmers Market
Farmers Markets provide the perfect morning outing and also an exceptional way to support local farmers and business owners. Visit this farmers market on a sunny Saturday and enjoy some of the other festivities that may be taking place such as Market Yoga! Check out the website here.
5. Sculpture Garden
The Sculpture Garden located in Minneapolis has the famous Spoonbridge and Cherry, along with around 40 other modern and contemporary sculptures. Its 11 acres make it a delightful area to walk and explore; near to downtown, it also makes for an amazing spot to visit after a dinner. The garden is free admission and sits right beside the Walker Art Center.