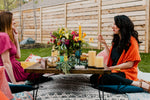 Summertime means spontaneous adventures and cute experiences, like hiking trips & picnics. A special twist to your average picnic, Noshnics curates a lux, boujee picnic experience made just for you. Want to celebrate something special with your friends, or maybe just don't feel like cooking on a hot summer day? Noshnics is perfect for you! This fun setup can take place in your very own backyard or favorite local park.
Liza Atkinson of NoshandGather has been working on this project since January, and reservations are now available! Our KISA towels are featured in this luxury experience. The smaller towels are perfect as napkins, while the larger can be used as throws. Book your Noshnic here! 
Some of our favorite ladies.
The Raised Weave Hand Towel ~ cute napkin!
 A KISA Turkish towel is a staple for this setup.
This 2-hour experience includes beautiful decor and flowers provided by Revel & Flourish, as well as lux cookies, sparkling water, and of course charcuterie!
Follow all of us on Insta for updates and exciting new offerings!!!
Photography: Chelsie Lopez