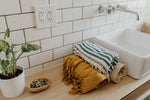 We love Turkish towels for many reasons, but just one is how they can really bring a space together - they're the perfect finishing touch for the kitchen, bathroom, living room, cozy corner… you name it & they'll add a little extra to that space.
Turkish towels were originally used in the Turkish bath houses. Their material is unlike other towels; they're handwoven with longer fibers of Turkish cotton, or even bamboo. This makes them much more dreamier than any regular towel - they're softer, more absorbent, and very durable. 
The first way Turkish towels can be used is in the guest bathroom. They add an elegant touch and will make your guests feel like they're staying in a luxurious place! Try a bright Waffle Weave paired with a neutral Raised Weave towel for contrast.
Roll them up and leave them on the counter for an extra luxurious hotel-look. 
Corners of the home, whether it be a little nook to read books or an entryway, look wonderful with Turkish towels. Due to their super-soft feel, they work perfect as little throws. They can also be grabbed on the way out of the house and used as a scarf or shawl. 
This Turkish blanket is woven the same as our towels, but is much bigger for extra warmth.
The kitchen is the heart of the home. One way to really make it feel this way is by placing some Turkish towels on the counter, near the sink, or even using one as a table cloth.
These specific Turkish towels are smaller in size. They are great as hand towels to dry off and clean up any little messes.
Mixing and matching different weaves creates a nice finishing look for the kitchen. These towels bring the space together while providing utility; dry off produce, clean off counters, or even set a nice fruit basket on top.