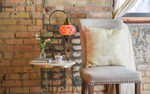 We're all about the simple yet stunning "finishing touches." Turkish towels, candles, plants - these all bring a little extra to any space in the home. One of the best ways to bring a space together, however, is gorgeous lighting. Turkish mosaic lamps are the perfect pieces to do this. And they're just so much fun!
A little bit about these lamps… These lamps are usually handmade in Turkey and are each covered in little pieces of glass that form a mosaic pattern, oftentimes a star or flower-like image. Their intricate detail is so unique, which makes their appearance in a room really stand out.
Stunning blues & a star design.
Rainbow for the perfect pop of colors, especially in a room with neutral-toned decor.
We love the simplicty of this one. This lamp will look great in a room that already has a good amount of vivid colors.
Visit us in Nisswa, MN to see our entire lamp collection! Make a weekend trip out of it with family or friends. You can also shop some of these beautiful lamps here! 
These beautiful images were taken by Brett Dorrian Benedict of Brett Dorrian Artistry Studios. Follow her on instagram!