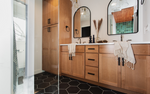 One of our absolute favorite things - stunning remodeling photos! Bathrooms specifically; there's something so wonderful about seeing this brand new space fit the personality of the owners. Construction2style, located here in MN, does a spectacular job of interior residential remodeling. They're who you'll want to check out if you're taking on a home improvement project. Follow them on Instagram: @construction2style
Their beautiful Shoreview remodel included our Turkish bath & hand towels. This bathroom design-build project is just so lovely, we had to share it with you all...
 Shoreview Master Bath
Our Turkish hand towels in the Raised Weave Style // Color in Walnut
Two of our bestselling Turkish towels // The Ribbon and Raised Weave
Shoreview Guest Bath
The Raised Weave Hand Towels in Charcoal 
We hope you enjoyed this look into the finished Shoreview baths! We are always inspired by how Construction2style styles our towels as the perfect finishing touch to a space.
Photography: Chelsie Lopez Production