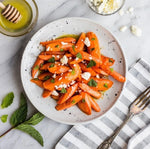 Making a new dish in the kitchen can be intimidating sometimes, even if you've had a lifetime full of experience. It can also be difficult deciding something to make that others will enjoy too. With Jamie Preuss, all things
food
is made easy for anyone and everyone. Jamie started So Happy You Liked It with the goal to share inspiration through approachable recipes. Visit her site here. Warning: you might get extremely hungry!
On her Instagram, you'll get to see how she makes use of our favorite textiles - KISA hand towels woven in Turkey. We always look forward to seeing our towels styled next to her delicious creations. It's such an honor! Here are a few photos featuring the yummiest recipes... use them for inspiration in the kitchen, and shop each towel by clicking on the pic!
Look at this Spanish Spiced Chicken. An exciting meal the entire family is sure to love!
Kale, Quinoa and Goat Cheese Mini Frittatas - we're obsessed.  
This Jamaican Jerk Chicken is the perfect recipe if you want a little spice (but not too much!)
Looking for a fancier dinner? Try the French Lemon Chicken with Shallots. Simple to make, but will more than satisfy your craving!
Our hand towels aren't featured in this pic, but we had to share it - these Coconut Cupcakes with Lavender Buttercream are too stunning! They'd be so fun to make for any summer birthday party or gathering.
& here is the wonderful Jamie! Follow her on Instagram for more of the yummiest recipes.
-
Shop our full Hand Towel Collection here! ♡