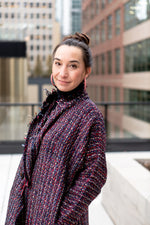 It was a dream to be able to work alongside these women for our most recent KISA photoshoot. Capturing and telling stories through the clothing we wear, along with how and where we adventure in them through our every-day is so special to us. We hope that all ladies truly feel empowered by the clothes they wear, guiding them with ease from work to home, and anything in between. The women in this photoshoot are small business owners around the Twin Cities area. We wanted to interview them on their passions and businesses, along with learn about each of their stories. They are beautifully bold and confident, and we were honored to be able to dress them in KISA for this shoot!
Heidi is the owner of the fabulous Excelsior Candle Company; all candles are made here in the Twin Cities by hand. 
~Questions~
Briefly explain the story behind you and your business? (How and when did you start Excelsior Candle Company)?
I've been creating unique gifts and crafts for over 10 years, starting with jewelry and culminating with the Excelsior Candle Co. four year's ago. Initially I wanted to make special gifts for family and friends and, maybe sell a few to continue funding my hobby.
What is important to you in your business (quality, story telling, ingredients)? How does it help Excelsior stand out from other candle makers?
There are several things that are important to me in my business. The quality of the products I create and the story behind the name of each product. Scent evokes so many memories, it's an unexpected journey.  Let's take my Lake Superior Mist candle. This candle scent reminded me of spending my childhood along the shores of Lake Superior. It is a very clean and light scent, perfect for the kitchen or bathroom.
I also find that innovation and collaboration are very important as a business owner and creator. I am always looking to partner with another maker and create new products. 
The Kylee Coat and Ellen House Jewelry hoops
Where do you like to "adventure" to - a place that makes you feel inspired?
I love the MN Landscape Arboretum and hiking along the north shore.
What is one piece of advice you have received that you live by?
Do what makes you happy! And to be present in every moment.
KISA Classic Coat in Royal Blue 
One of the things we particularly admire about you is that you are a momma and a local business owner. Any words of wisdom for us about how you've learned to balance it all? Or an additional skill set motherhood has taught you that you've brought into your business?
I involved my kids in my business whenever I could. Anything from wicking candles to helping me at events.
What's one quote that's significant to you right now?
"Is it day one, or one day." - Oprah Winfrey
KISA Full Length Coat in Black
When did you realize you were a Maker? Have you always enjoyed working with your hands? 
I have always been a maker. When I was younger, I was involved in 4-H and made banana bread and an afghan for several summers for the Anoka County Fair. I have also been sewing since I was nine.
As your business grows, what new thing are you looking forward to in 2020?
Introducing some new products. 
What is your favorite KISA piece & how does it fit into your life?
I have a white blazer that I love and wear with jeans. Which is perfect as I often have meetings during the day and need to leave directly from the studio.
Find Heidi and her beautiful candles here:
Excelsior Candle Co. // on instagram
------------------------------------
Watch Heidi on Twin Cities Live!
Wearing her KISA long shirt dress in ginger!