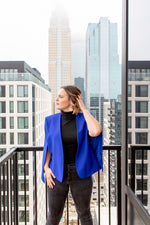 Last spring, we were thrilled to realize one of our absolute favorite pieces had come to the spotlight: The Cape Blazer. Feeling confident, bold, and feminine, is something we want all ladies to feel - whether it be at work, during a presentation, or just at coffee with the girls. The cape blazer is a piece that makes this a little easier, helping to exude confidence wherever it may be worn. Alexandria Ocasio-Cortez (AOC), a U.S. Representative, wore her cape blazer to the State of the Union Address in February 2019. She wore it in white to show honor of the suffragists. This explains exactly what we want cape blazers to stand for: the empowerment of women. 
With cape blazers becoming a new and exciting addition to many women's closets, let's talk about the ways in which you can style them for the best use and versatility:
1. With a t-Shirt and jeans.
Cape blazers do not have to be worn in glamorous settings or in professional environments. Your favorite graphic t-shirt (or turtle neck) and black jeans will pair perfectly with a cape of your choice. Wedges will pull the look together if you want to look more dressy, otherwise flats will work great.
2. To a gala or wedding. 
If you are searching for something to dress up an outfit you choose for a work gala or maybe a wedding, the cape blazer adds a sophisticated touch. Further, it keeps you a little extra warm! It will look amazing with both long-sleeved and sleeveless options.
3. To the office (or drinks after). 
Capes can be worn with a business casual blouse. If you have a black or white cape (or are looking to purchase one), you can pair it with vibrant colors such as red or royal blue. Colored capes go perfectly with white, black, or grey tops. Trousers with a slight flare, similar to what AOC wore at SOTU, are a power piece that go well with capes. 
4. For a presentation. 
Have you ever been told to do the "superman" stance in front of a mirror right before an interview or presentation? Well, it is proven to actually boost your confidence level - and a cape may help with that too! Depending on your needs, you can dress the cape up or down, with or without accessories, and choose how you want to style your hair. High ponytails or buns look oh-so-perfect with capes and can add a little more to the outfit. Do what makes YOU feel confident and comfortable. 
Shop all our capes here!
Photo: Kylee and Christian Creative
Makeup: Stephanie Domrose