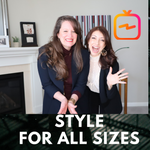 Hello! It's Emily the co-founder of KISA!
One of my very favorite parts of running this business is the collaboation part! Entrepreneurship can be lonely so I find my "co-workers" in the other fabulous business owners I meet along the way!
Vanessa and I met at a pop-up in Minneapolis and immediately started buying colorful accessories from each other! Her hand-made boho earrings drew me in while she loved my colorful crocheted statement necklaces!
Turns out we are both entrepreneurs bringing in items from countries close to our hearts: Vanessa was born in Venezuela and I am from MN but lived many years in Turkey. Travel is in our hearts!
We started collaborating on photo shoots & started having Vanessa in our store for Trunk shows.
We knew our styles complimented each other and we talked about how we are such different sizes in clothing. We were inspired by Trinny Woodall's #fridaytwinning to create something fun for our customers that embraced our different body shapes - inspiring you to love your YOU-nique you! We are all so different - isn't that fun!
SO this lead us to the creation of our video series: STYLE FOR ALL SIZES (Vanessa is our editing pro - thank god!)
In our first video we introduce some day-to-night looks featuring KISA blazers & Vanessa's jewelry & handbags! This is our first video and we decided it is a little slow but our next one is already so much better! 
We can't wait to share them with you! We hope they inspire new bold styles in you too!
  STYLE FOR ALL SIZES
Follow along on this weekly series so get your updates by following us on instagram:
 Sign up for our email newsletters on our websites!
------------------------------------------------------------
Items as seen in video!...
KISA:
On Vanessa:
Cream lace top size 36 (in store only $39 // contact us here to order)
Assymetrical Blazer w/ satin details in black size XS (ON SALE $99 in XS, S, M only // contact us to order)
On Emily:
The NICOLLET Blazer // Emily was wearing Navy in size 10 - $198
Vanessa Style Shop
On Vanessa:
Grey Drop Earrings - $58  
Bird Ring Gold - $48
Beaded Black and Bronze Bracelet on SALE - $49 
Tweed Bag Multi - $195
On Emily:
Star Necklace Pendant Olive on SALE - $39
Raindrop Necklace Gold - $55
Drop Pearl Earrings Gold - $32
Gold Beaded Bracelet on SALE - $49
Olive Green Tote Bag "Gold Wings" - $195
Leopard Print Clutch Bag Beige - $165