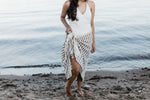 One of our favorite things about our Turkish Towels is their amazing versatility! We love how one simple piece can be used multiple ways for a day at the beach. Here's how we like to style it...
// THE BEACH DRESS
This look comes easily by wrapping it around your back, crossing it in front and tying it at the neck. It acts as a perfect cover up and allows you to carry less items to the beach. 
 // THE BEACH BAG
Tired of leaving the beach carrying your towel and a lot of other miscellaneous items? This towel can become your new beach bag by simply tying all corners of the towel together. You can wear this over one shoulder or across the body. 
 // THE BEACH WRAP (for him & her)
Want to walk to the pool or lake somewhat covered, but don't want to hang onto another clothing item?
For Her: Wrap your towel around your back and tie two of the corners on the side. This look is cute and flirty and is perfect for transitioning from lake to car, hotel, and more.
For Him: Simply wrap the towel around tightly and tuck the corner into itself. 
We hope you enjoy these tips and tricks while using your Turkish Towel!