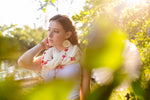 KISA Crochet Jewelry // Styling Tips For Your Necklace Wrap
Here at KISA we love our crochet! These crocheted pieces are traditionally made by women in Turkey to be attached to their headscarves. Emily Kisa (owner) has worked with these women to create a new, fresh and original jewelry line. 
Continue scrolling to see our favorite ways to wear the Crocheted Necklace Wrap...
Your Not-So-Basic Necklace
This necklace can be wrapped around your neck once, twice or as many times as you want. Wear it one time around and tie in back for a more basic look. The great thing about it being a wrap is that the length is adjustable! If you want to try something a little different, just let it hang down without tying it in back. 
The Added Element
These crocheted beauties are a great added element to pair with a scarf. Lay it on top of your scarf to add some color and texture, or weave it in with your scarf. If you want to wear something less bulky or it is too hot out, wear just the Crochet Wrap and wrap it just like you would wrap your scarf. 
Headband & Bun Accessory
Crocheted Necklace Wraps can be used for more than just necklace options. Use it as a fun accessory when you want to add color or texture to something. Wear your wrap as a simple headband or wrap it around your messy bun.
Crocheted Choker
   This necklace is easy to wrap tight to create a choker necklace look. Either tuck the ends in and tie together, or wrap it tight and let the ends hang down. Play around with the number of times you wrap it or what lengths you let it hang. Maybe it wraps around your neck like a choker and then also hangs down low to create layers. 
Ankle Bracelet
Ankle bracelets are always fun for summer when you have your toes painted and sandals on! Add that fun element by wrapping your Crochet Wrap around your ankle. This takes your basic shorts and shirt outfit to the next level by just adding a pop of color.
The Hair Wrap & Weave
This is one of our personal favorites here at KISA. These are such a fun addition to your typical braid. Treat it like another strand of your hair and start braiding it in! If braids aren't your thing, incorporate it into an up-do or low pony. 
Make sure to get your Crochet Necklace Wrap and try out these 6 fun ways of styling it. 
|| Thanks for stopping by & stay posted for more fashion tips in future blog posts ||