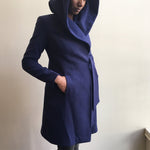 Our Signature KISA Hooded Coat is back in stock for the winter! We have it in colors: Cream, Camel, Black, Blueberry & Red. We have them in sizes 2-14. These jackets have a collar that can be worn down over the shoulders or up as a hood. It also ties on the side for a flattering look.
We also have a NEW coat in stock this winter. This jacket is so classy and stunning. It has a belt that ties on the side. This jacket comes in colors: Black, Red and Cream. Sizes 2-14. These jackets are so soft.
Stop by to see our KISA coats!