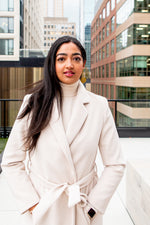 It was a dream to be able to work alongside these women for our most recent KISA photoshoot. Capturing and telling stories through the clothing we wear, along with how and where we adventure in them through our every-day is so special to us. We hope that all ladies truly feel empowered by the clothes they wear, guiding them with ease from work to home, and anything in between. The women in this photoshoot are small business owners around the Twin Cities area. We wanted to interview them on their passions and businesses, along with learn about each of their stories. They are beautifully bold and confident, and we were honored to be able to dress them in KISA for this shoot!
Ra'eesa is a co-founder of noise m8kers, a media production company that is helping to tell the stories of people, making them clear, powerful, and allowing for positive change. She is also a broker for Lee & Associates here in Minneapolis, along with a board president for the Twin Cities Film Fest ~ keep reading to learn more about this inspiring lady!
~Questions~
Briefly explain the story behind you and your business(es)? We know you help other businesses find great spaces as a broker. We also want to know about Noise mak8rs plans and your work with the Twin Cities Film Festival.
With Lee & Associates I work with tenants and businesses to find the right space to either lease or buy. I also work with my clients to negotiate their renewals, expand their businesses as we grow or relocate them to better help serve their employees and customers. I specifically work with industrial and corporate users both locally in MN and Nationally. 
Noise M8kers was born out of love for working with underrepresented communities (specifically women and minorities) in the social conscious space. Organizations working to leave positive impacts on our climate and communities can be thankless work and I believe it's important to highlight their stories and shed light on their projects. As a production company we get to be storytellers for the good and create opportunity to others to get involved or create awareness. 
My board role with the Twin Cities Film Fest allows me an opportunity to explore a more creative part of storytelling. Growing up, I had a love for film and really enjoy documentaries specifically. TCFF is an incredible organization that believes in supporting MN creatives and giving them an opportunity to showcase their work during the 11 day festival. Being a small part of how we put out content and create art has been an honor. 
KISA Classic Coat in Camel
What do you love most about being a board president for the Twin Cities Film Fest?
I think one of my favorite parts about TCFF is the mission and what we stand for. The support for creatives but also the impacts we leave with other non-profits working in spaces to create good has been an experience that has made me a better human. 
KISA Full Length Coat in Cream
Why is storytelling important to you?
We live in a world of over stimulating consumption and it can be hard to understand and compartmentalize all the information we take in on a given day. With storytelling, it gives organizations, communities and individuals an opportunity to engage with those on the other side and ignite a passion for a way to create positive forces in our world. Whether we are discussing climate change and how to save endangered species or human rights in communities with gender, race and equity, storytelling is one of the most effective ways to invoke emotions and create change. 
KISA Mega-Diamond Turkish Towel - Tan
We know you were just in Morocco & Portugal. What did you bring back from that experience?
I love to travel and while I enjoy the occasional shopping trip in different places, I really love experiencing the different cultures, food and community. Each country brings me home with a different perspective and in this case I loved the architecture in Lisbon and the color and vibrance of Marrakech. I unintentionally feel like I incorporate pieces of it in both my home, food palette and wardrobe. 
KISA Classic Coat in Camel
Where do you like to "adventure" to - a place that makes you feel inspired locally in Minneapolis? Can you tell us about your special love for Minneapolis, Minnesota?
I love Minneapolis - I truly mean that. We are so fortunate to have a State that has so many ways to "adventure!" One of my favorite places (outside of my couch) is skiing up in Lutsen, or a bike ride around Lake of the Isles or playing tourist downtown. Regardless of where I am in the world, I am always happiest coming back home to Minnesota. I'm so proud of our communities, our values, our opportunities. I even love the winter! 
What is one piece of advice you received that you live by?
I am notorious for keeping a note file on my phone and write down the advice I get over the years. If I am being honest, I don't think I live by just one piece but a combination of many. 
I believe that behaviours make leaders, we have the opportunity each day to get up and write our stories the way we want them to be told. Build a personal board of directors and never shy away from asking questions. 
Do you ever have days when you wake up feeling uninspired? What do you do with this feeling?
Absolutely! Sometimes the hardest thing to do is motivate yourself. For me, I try to remind myself why I do what I do. Knowing that even during the hardest times, you will bounce back. When we fail to show up, we get further away from our goals. Put your challenges into perspective and act with intention. It's better to rest than to quit. 
You have family ties to South Africa. How do you integrate your love for both cultures into your life? Do you ever find it difficult or has it been quite seamless for you?
Growing up in Minnesota, I think my parents did a great job of keeping us connected to our family and South Africa. I will say over time and as I get older, I have new found appreciation for that and have found myself celebrating those differences more and more. It has been easier now and being connected to both Minnesota, South Africa and my culture has played a role in not only my personal life, but given me perspective professionally as well. 
At this moment, what's your most favorite thing hanging in your closet?
Being in MN means you have to sometimes be prepared for multiple seasons in one day! At the moment, I am loving leather leggings. They're so versatile. They can be dressed up with a blazer or blouse for work or down with a cute satin tank or crop for a night out. 
Do you have a favorite KISA piece? How do you work it into your life?
My current favorite KISA piece is this tan midi dress with a brown leather overlap on one of the shoulders, and of course, my KISA scarf that is a staple!
-------------------------------------------------- 
How can people best connect with you?
My website is www.raeesamotala.com
Instagram: @raeesam
Twitter: @raeesamotala_MN
LinkedIn: Ra'eesa Motala