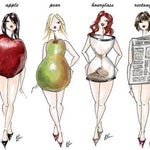 Dressing can be hard sometimes. Especially when the size chart is all over the place and depending on which store you go to. And then adding in curves and height into the equation. There is not one standard body out there, Ladies. Shopping can be frustrating when things are just not looking right. This blog is intended to give you some tips to make the shopping experience a little less stressful. 
My goal is to give you ladies some ideas of which pieces of clothing will automatically show off your body so you can go into the store and find those items more easily. 
The fantastic thing about this is there's clothing out there that features your body, no matter which category you fall in, and shows off the parts of your body you love. And all of us ladies that fall into other categories will look at you and say, "Dang! that lady looks so good. I wish I could wear that and look that good." Because you know how to dress for your body, and you are rocking it! Right?!
SO. Let's look at the different body shapes... 
Photo Credit: LC, DR.
THE APPLE: Women who carry their weight in their mid-section, typically have fuller bust and slimmer legs. Everyone carries their weight in different areas. For Apples, it is in their stomach and sometimes bust. 
To flatter your Apple body shape, you want to draw attention to your bust, neck and legs. Wearing dresses that are flowy will hide any un-wanted curves and will make Apples look slimmer. Avoid items of clothing that accentuate the waist - waistline on dresses or belts that belt at waist. Also avoid low cut pants. Keep the attention on your beautiful bust-line- while keeping it classy too. The great thing Apples get to do is SHOW OFF THOSE LEGS! Not all of us have those slim legs that look amazing in short dresses. 
Clothing Items to Consider: Slight V-necks, or tops that feature bust-line, flowy dresses, shorter dresses/skirts, dark colors, flared jeans to make you look longer and draw attention to your legs. If you have a flatter butt, make sure your pants have pockets to create some definition. 
THE PEAR: You have a Pear shape if your hips, butt and thighs are wider than the rest of your body. You also have slimmer shoulders and bust. 
Typically when dressing for the Pear shape, you want to balance out your bottom by wearing something that draws attention to your shoulders and bust. Whether this a patterned top, a push-up bra, broader/boxier top or a shirt that gives you a nice bust-line. Avoid wearing pants or tights that make your legs look more narrow, because this will accentuate an upside-down triangle look. Straight or slightly flared jeans with heels will add length to your legs and create a more balanced look. If you are feeling like revealing those curves, wear a pencil skirt. Don't be afraid to show off those hips if you are up for it!
Clothing Items to Consider: Boxy tops, broader necklines, straight leg jeans, pencil skirts, high-waisted items to make your lower half look longer.
THE HOURGLASS: Let's define this first. Just because you may have curves does not actually make you an hourglass figure. The hourglass figure needs to have a smaller waist than her bust or hips. Also, the bust and hips are similar in size. 
Since your waist is smaller, this becomes your focal point. Try to dress accordingly. Wear pieces that will accentuate and draw people's eyes to your waist. Tailored or fitted clothes look nice because it shows your curves, but also your waist. Baggy clothes hide your waist and allow everything to fall from the shoulders and bust. This hides your figure, draws attention to only the bust and can even make hourglass figures look heavier than they are or pregnant. The other thing Hourglasses can do is wear pieces that shape your bust. Make sure you are still being supported and not falling out, but a little bit of classy cleavage never hurt. Just be aware of the amount of cleavage and the event you are attending. 
Clothing Items to Consider: Wrap dresses, tailored or fitted dresses, crop tops, high waisted skirts and pants, any dress that belts around the waistline, V-necks
THE RECTANGLE: This is you if you aren't very curvy. Your shoulders are about the same as your hips and your waist isn't vey defined. This body type usually has their weight distributed pretty evenly throughout. 
The trick to dressing this body type is to break up your silhouette by creating curves by the clothes you wear. Wear a dress and cinch a belt around your waist. Wear dresses that have embellishments on the bust- this will often make your bust look larger, and your waist look smaller- creating some curves. Rectangle body types also really benefit from wearing shape-wear under their clothes just to create more of a dynamic curve in their clothing. Draw attention to your legs. Rectangle bodies look great in miniskirts, or anything that accentuates the legs really. The rule for Rectangle body shapes is to either keep the volume on top or on the bottom - don't put it in both places. 
Clothing Items to Consider: Scoop and round necklines, strapless, ruffles or texture up top, belting your waist, halters, short skirts or skinny jeans.
Most importantly... have fun with dressing yourself. The biggest thing is that you feel great in what you are wearing.
Thanks for reading. Stop by for more tips and tricks.