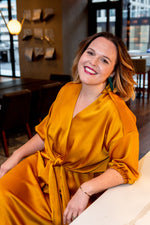 Bold bright shapes & curated color perfection!
That is what comes to mind when we think of Jac & Violet handmade statement earrings ~ after all the tagline is "Wear your Art." Investigating further the woman behind the jewelry line, Andrea Gharritt, we have learned to love even harder as she is having hard conversations around women and our love/hate relationships with our bodies. As a Functional nutritionist & Wellness Coach she guides woman (I'm sure men too) into rocking their beautiful multi-faceted bodies in healthy and mindful ways ~ breaking down all the bullshit of past body trauma we have all experienced in some way! 
We were able work alongside Andrea & other talented women across the Twin Cities in our recent #myKISAmoment photoshoot. We decided to dig deeper than just the beautiful images by interviewing these special humans on their passions and businesses, learning about what motivates them. We were honored to be able to dress them in KISA for this shoot!
Andrea is so articulate and hits home on so many points that you really must read on...
~Questions~
When we first connected with you it was through your beautiful handmade jewelry line, Jac & Violet. Could you explain your inspiration in starting this?
I have always loved jewelry. I have memories of being very young and carting around my box of beads, string and supplies. I was less into sports and more into creating things with my hands. And things that you could wear?? I was sold by the power of jewelry very early on.
It has always been on my heart to design and sell my own jewelry and have my own established brand and company. Art has always been my reprieve and I had been craving a way to create space for this part of myself again. A couple years ago, my coaching business felt like it was in a good place to take this on. So I said "yes," dove in, and here we are.
I knew that I wanted my work to be more than simply, beautiful things. I want my work to feel like a piece of wearable art. To empower the wearer with a sense of intentional, bold self-expression. So my collections are named after powerful, kind, unique, and talented women.
Jac & Violet are my grandmothers, my first forays into jewelry.They both would let me try on all their jewels and strut around like I was a goddamn queen. That is the level of confidence I want for every woman who wears my work. 

KISA Handmade Shoes Maroon Suede Slides

Aegean Diamond Weave Turkish Towel // Jac & Violet teal & gold leaf earrings
As we have come to know you better we have loved learning more about your Functional nutrition & body coaching business. What inspired you to start this?
I have had the same body since 5th grade. And growing up with curves in the era of ultra low-rise jeans...those were dark times. My passion for fitness, nutrition, and wellness was first fueled by an effort to "fix" my imperfect body. So I strived to gain as much knowledge as possible. I tried to fit myself into every box and recommendation to create a body that mirrored what I thought a health professional should look like. 
But I was never satisfied. And I finally began to explore what needed to change inside to feel aligned to my professional title. Turns out, it had nothing to do with my body. And this transformed how I work and connect with people.
Now my work is rooted in an individual's purpose & values and designing a lifestyle that supports these things, NOT creating their ideal body. My work does the deep work of healing relationships with food and bodies and shifting the narrative around what it means to be well.
Because this is defined differently by every single human. And we need health practitioners to honor this. This is what my business is about. Honoring who you are, where you are at, and helping you clear the bullshit about what you "should" be doing to create a life that supports what truly matters to you.
Being in the clothing industry women trust us a lot to share how they feel in their clothing from KISA. We hear a lot about sizing & comfort in certain size standards. You recently shared on social media "friends don't let friends talk shit about their bodies" Could you expand on this?
For so long, many women are fed the narrative that if they don't hate their bodies or are on a diet...are they even a woman?? This is absolute trash. But the only way we can start to rewire these autopilots thoughts is by acknowledging them and what their triggers are. There are plenty of external triggers outside of our control but there are many that we can influence. The conversations we have with friends is a great place to start.
Shift the conversation, challenge your own language, and pull your friends out when they are starting to enter that quicksand. 
This isn't easy and can be unforgettable at first. But really, what profound change isn't a little (or a lot) uncomfortable?? And the beauty of making this shift is that you are giving the people you love the most permission to love themselves. Whoa. Think of the ripple effect of that sort of radical self-love. 
KISA Full Length Coat in Cream
You have very thoughtful social media posts on both channels. Why is storytelling important to you?
On a cellular and primal level, all humans are looking for connection, a sense of belonging. In our modern society we have created so many layers of disconnection and seeing people as "other" or "them." We crave other people's lives on the basis of seeing a small, tiny, curated fraction of it.
I want to let people into my world. The real parts of it. My inner, vulnerable self so that we can all feel connected in the grace and gritty parts of what make us human. Because that's where the true magic lives.
What makes you feel confident, bold, and comfortable in your own skin?
I firmly believe that for most people, confidence takes practice. And that's definitely true for me. I have to practice pausing self-doubt and re-framing my thoughts. I don't think its fair to expect ourselves to never think a negative thought about ourselves. I think the more reasonable expectation is to honor the years and experiences that solidified that circuitry, pause the thought, and replace it with a new, positive one. Also, cataloging and banking positive thoughts about ourselves helps to arm ourselves against our natural negativity bias. So when you do something you are proud of, overcome an obstacle, show up even when you feel uncomfortable, try something new, or have a moment of boldness...sit in that feeling and celebrate it. This helps build self-trust and self-confidence.
When I move my body in ways that feel good to me, I feel at home and grateful for her.
I feel like I am showing up for her and in return, she shows up for me. I've been in the practice of tuning into what regular movement really means to me, rather than what I used to feel like that "should" mean. I've moved away from only hard, intense workouts to a healthy mix of dance, yoga, jogging outside, and high intensity interval training. 
Also, sex. Honestly, is there anything more bold and sexy than a woman embracing and owning her pleasure. Answer: No. Be turned on by your damn self and that shows up in amazing ways in other parts of your life. And there's nothing like a little gratitude for multiple orgasms that can diffuse any negative thoughts about my dimply thighs or a cushy belly. 
The Loring Cape Blazer in Royal Blue
If we played dress up in your closet what would we find?
My go-to move is skinny black jeans, a t-shirt, belt, blazer or layering piece, and sneakers or booties. Also, obviously, a bold earring. Sometimes I like to plan my outfit around my accessories. 
I like to keep my look interesting, with pops of color, bold accessories and simple lines. Being comfortable in my clothes is paramount. Life is too short to wear clothes that don't fit (or pine after ones that used to).
What's one quote that's significant to you right now?
One of my favorite quotes is
"You can be anything but you can't be everything." My word for 2020 is STRATEGIC. Not a super playful word but one that is helping me be intentional about how I spend all my currencies - time, energy, and money. 
I am doing a lot of thoughtful moving and shaking when it comes to outsourcing in my businesses right now. I might be pushing against popular opinion on this one but I don't believe that women can have it all. I believe that women have seasons of priority. Seasons where you get to decide what you are spending your time, energy, and money on and creating and protecting boundaries around the rest. 
Jac & Violet Earrings
What is your favorite KISA item & how does it integrate into your life?
I have this rust colored faux-suede trench that I absolutely ADORE. The color is interesting, the fit is perfect, and the sleeves stretch so I can wear a sweater underneath it. It is a win-win all around and I receive so many compliments on it! 
And playing with different color stories is something that I like to take from my studio and into my clothes. This piece is the perfect backdrop for pinks and mint and salmon...the possibilities are only limited by my imagination.
You may also buy a curated collection of Jac & Violet in store at KISA or online!
----------------------------------------------
Andrea's contact info and how to follow her socials!
wwww.jacandviolet.com // www.dietitianandrea.com
hello@jacandviolet.com // hello@dietitianandrea.com