Blog — Style for all sizes
Ever since we were younger, wearing the same outfit as a friend, or "twinning," has always been so much fun. In video 3 of the Style For All Sizes IGTV series, Vanessa and Emily played with the same stunning royal blue light jacket. Its taffeta-like material is gorgeous and allows for the jacket to make any simple outfit an eye-catching ensemble. We each paired this jacket with Vanessa's accessories that we are loving right now. Accessories really do tie any outfit together, allowing for your own unique style to shine through!   STYLE FOR ALL SIZES EPISODE 3 // SAME...
---
In this week's video we talk about fun ways in which you can style outfits, and outfit ideas for any travel plans you may have coming up! 
---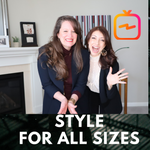 Vanessa and Emily met at a pop-up in Minneapolis and immediately started buying colorful accessories from each other! SO they thought it would be fun to do some videos together! Both are entrepreneurs bringing in items from countries close to their hearts: Vanessa was born in Venezuela and Emily is from MN but lived many years in Turkey.