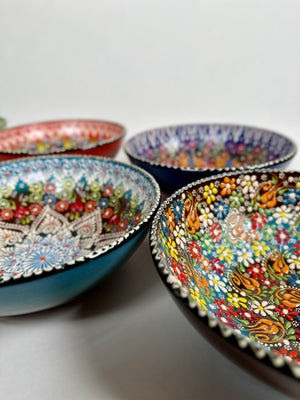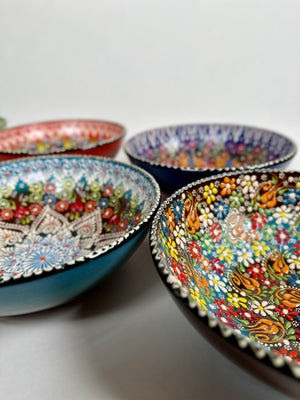 On Sale
Extra Large Turkish Ceramic Bowl
These stunning Turkish Ceramic Bowls in size extra-large are hand-painted in Turkey and available in a rainbow of colors, florals, and geometric designs. Each bowl is a one-of-a-kind work of art. Display one of these bowls in your home as a statement piece.
The extra-large bowls come in three main colorways, ombre with floral designs, ombre with four Ottoman motifs surrounding the bowl, and the "Daisy" collection. Limited quantities are available in each style as each bowl is uniquely handmade. Every bowl interior is unique and may different from exterior colorway. Not all styles are displayed in pictures. As a handmade item, slight variation in pattern and color may occur. If there is an exact piece you would like, please specify in the notes during checkout and we will reach out to you with availability. Contact us here with any questions.
- Handmade and hand-painted in Turkey
- Size extra-large measures 10" in diameter
- Food Safe
- Microwave Safe
- Dishwasher Safe
- Lead Free
- Handle with care
We have ceramic bowls in 6 different sizes, gift sets, and many different colors, make sure to check out our entire Turkish Ceramics Collection.